Written by Lancom Communications, April 2023
New Zealand-headquartered trans-Tasman managed services provider and software developer Lancom Technology was last night named an AWS Cloud Innovation Healthcare Industry award winner ahead of the AWS Summit taking place in Sydney this week. Lancom secured the award by successfully delivering a major application modernisation project for Geelong's Barwon Health.
Lancom Technology CEO Waruna Kirimetiyawa says the win is the culmination of work which began when the company became the first in New Zealand to secure AWS SaaS competency. "We've partnered with AWS for years having early on recognised the potential for its technology in accelerating digital transformations and new ways of working," he says. "Securing this award is immensely satisfying and the result of the hard work and dedication of our team who have risen to a significant challenge and delivered the results expected by the client."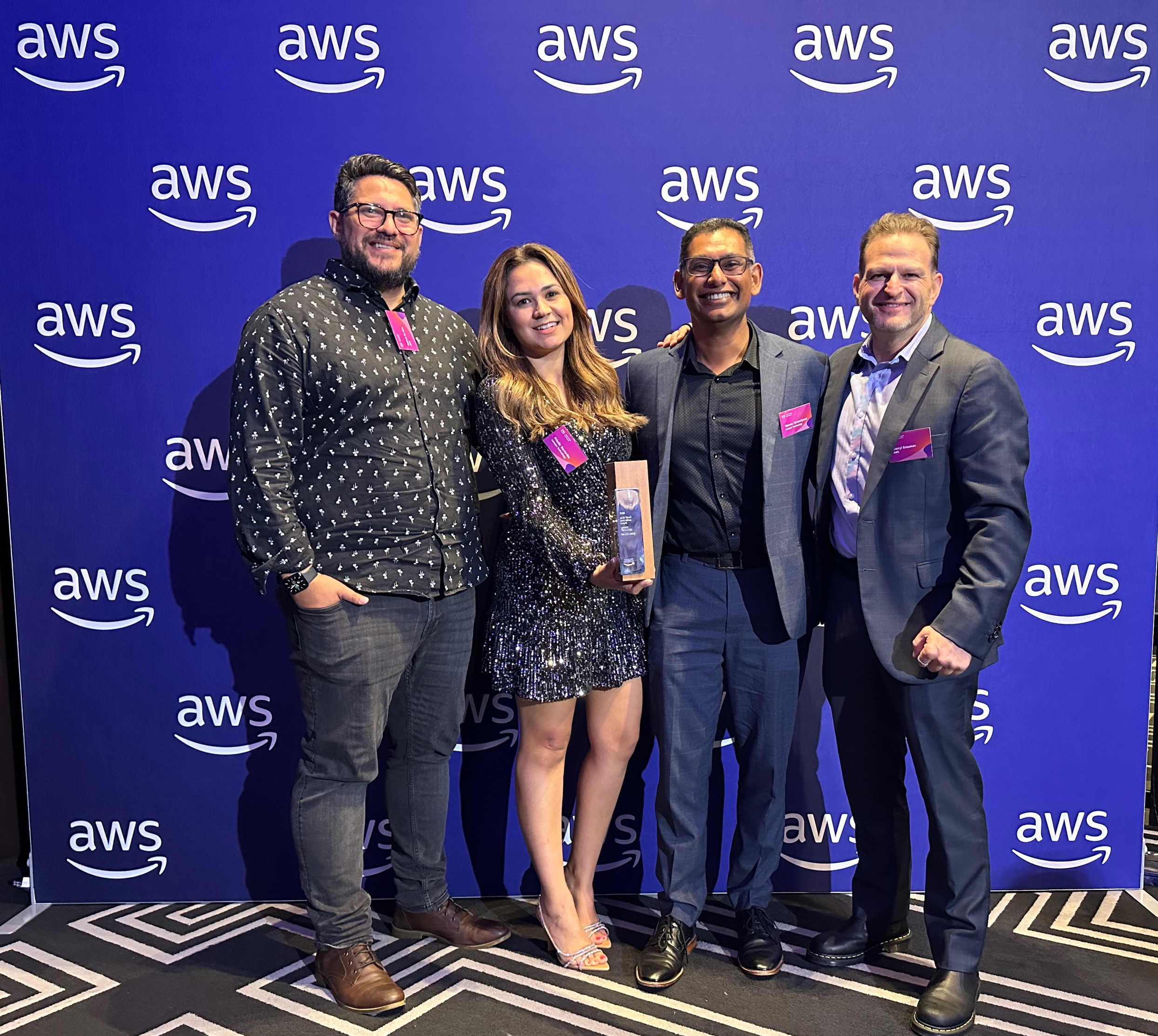 Lancom CEO, Waruna Kirimetiyawa (centre-right) and General Manager, Priscila Bernardes (centre-left), photographed alongside their AWS partnership team, Josh Te Hira (left) and Darryl Grauman (right).
Kirimetiyawa was himself directly involved in the Barwon Health project, which kicked off when Lancom secured a competitive tender for the modernisation of an application called 'PROMPT'. Created by Barwon Health 12 years prior, PROMPT addresses medical errors at the point of emergency treatment. Used in more than 120 hospitals across the state of Victoria, the application provides patient information and support for clinical staff facing literal life and death decisions. The application houses around 100,000 live documents.
Exclusively leveraging Amazon Web Services, Lancom modernised the legacy on-premise application, migrated it into the AWS cloud and made it easily accessible to all personnel. The shift into the cloud has also positioned Barwon Health for potentially taking PROMPT to a global audience.
"It wasn't about taking this application and rewriting it into a modern environment. This was about roadmapping the future and delivering a reliable application that can scale to thousands of hospitals and hundreds of thousands of users. We saw potential to make PROMPT faster and better by building in features that hadn't yet been contemplated," adds Kirimetiyawa.
The reimagined application is created entirely and solely with AWS services and hosted in the AWS cloud. This demonstrates the breadth and depth of AWS services and their suitability for creating a critical, highly scalable application, Kirimetiyawa observes.
It's proven a winner with the customer, too. Barwon Health CIO Andrew Macfarlane says the migration into the cloud was problem-free and opened up new possibilities for PROMPT. "Probably even more importantly, the delivery of the application was the start of a lasting relationship with a trusted solution provider," he says. "This has been beneficial as through the migration they learned a lot about Barwon, the application itself, and the users. That knowledge is essential in helping us support and innovate the app so it is always current and delivering the expected value."
AWS Country Lead Tiffany Bloomquist says Lancom Technology is a worthy recipient of recognition. "The Barwon Health PROMPT project is an at-scale deployment of AWS technology which not only required considerable technical capability, but also close attention to complex governance and security requirements. Lancom has delivered an exceptional result and have our congratulations on a job well done."
Learn more about Lancom Technology and AWS
We're a leading AWS Advanced Consulting Partner with over 10 years of proven experience migrating workloads to the cloud. We develop cloud-native applications and design and implement award winning cloud solutions. Get in touch to find out more.