About Hectre
Hectre is a New Zealand SaaS business, making mobile responsive orchard management software that fruit growers love to use. The software includes a suite of precision tools that allows orchardists to streamline their harvest management by creating bin tickets, recording harvest quantities and locations and reducing administrative burden for managers. Hectre also enables orchardists to manage all their orchard jobs in one place. Tasks like assigning jobs, tracking worker progress, recording the spread of disease and cataloguing spraying schedules can all be done from an app on a phone whilst out in the orchard. Hectre even provides digital timesheets and payroll services.

Founded in New Zealand in 2016, Hectre now has approximately one third of the New Zealand apple market using their product with large customers also in Australia, the US and England.
Hectre
Luke Butters
/ Research And Development Manager
The challenge
Automating quality control through AI and ML
The team at Hectre had a vision for improving the quality control of orchardist's fruit through the use of AI and ML (artificial intelligence and machine learning). The team worked very quickly to create an app module called Spectre. During harvest it's used to take a photo of a bin of apples. The photo is tagged to a bin through a QR code, recording the date, time, block, fruit variety and picker. Spectre then applies advanced AI and ML algorithms to calculate the distribution of the fruit size, colour and quality. Calculating average fruit weight with 95% accuracy.
Reducing technical debt and increasing scalability
The setup for Spectre was very rapid. The team developed a minimum viable product (MVP) and validated it with growers. With the team at Hectre busy developing, innovating and fixing any issues encountered along the way, they had boot strapped and as is very common, had acquired some basic technical debt. The team recognised this and wanted to ensure Spectre was built on a robust foundation that was scalable and cost effective.
The solution
A foundation for exponential growth
The team at Lancom Technology explored Hectre's problems and bottlenecks and wanted to position them with a comprehensive architecture that would support rapid expansion across the world. We also wanted to leverage AWS so that the client's workloads could scale as required and enable the use of advanced machine learning with the likes of SageMaker, a cloud based machine learning platform that enables developers to create, train and deploy ML models in the cloud.
From a compute perspective, the client was facing scalability issues on their existing platform due to heavy integration. This meant that individual parts couldn't easily be scaled up and down. The solution we implemented involved splitting components and hosting them on AWS Fargate and ECS. Finally, the team migrated the existing database across to AWS RDS.
The results
Peace of mind
The immediate benefit for Hectre is peace of mind, knowing that Spectre is very resilient and built on a robust foundation. With Spectre growing strongly in the large and very commercial US market, this is vital because there is pressure from huge growers who have high expectations and rightly demand maximum uptime from the software they use.
Ready to scale and innovate
With a global pandemic making international travel difficult, the team at Hectre are doubling down on their existing markets with ambitious plans for growth. Although it's too soon to have realised the full benefits of the AWS ecosystem, the platform is ready to scale and innovate through the use of services like SageMaker.
More about Spectre
With picked apples being stored for three to four months before being graded, Spectre enables cool stores and packhouses to store fruit according to size. When it's time for grading and packing, the packhouse machinery is configured to process fruit of a certain size. When the fruit size fluctuates, the packhouse has to stop production and be reconfigured. This is costly downtime which Spectre helps eliminate by providing accurate analysis of fruit size and quality.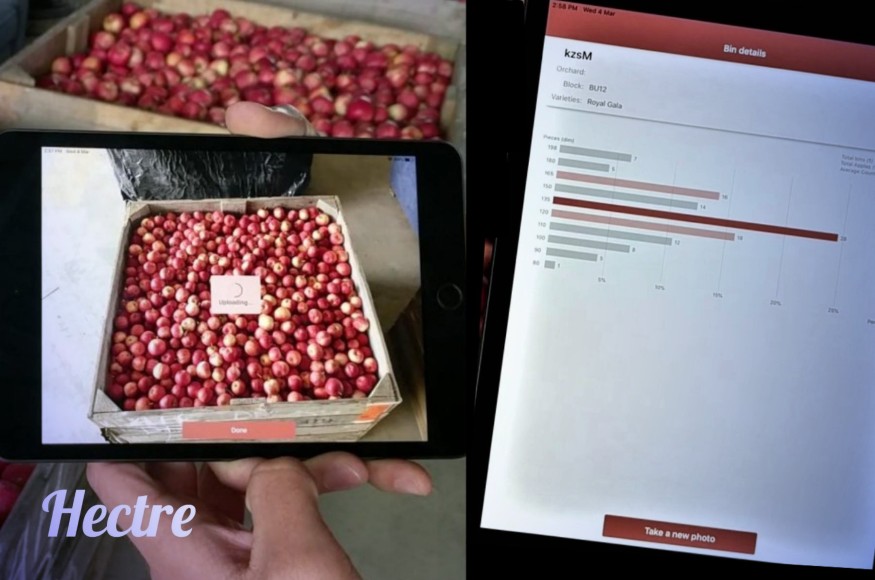 Services used
CLOUD COMPUTING
Amazon Web Services

Cloud Migration

Cloud Optimisation
DATA, INSIGHTS AND WORKFLOW
Artificial Intelligence

Machine Learning
Ready to modernise your business?
If you'd be interested in finding out how Lancom can help modernise your legacy applications, click below!