We're one of Australia and New Zealand's leading AWS Partners
Our team of AWS experts have over 10 years of proven expertise designing and implementing hundreds of cutting-edge cloud projects.
We are expert at designing, building, migrating and operating complex AWS environments and delivering successful cloud projects for companies of all sizes, across all industries. Over one million businesses around the world run on the AWS cloud yet only a handful of AWS Partners can match our AWS credentials.
AWS Advanced Consulting Partner
Tiffany Bloomquist
/ New Zealand Country Manager for Commercial Sector, Amazon Web Services
Winner, 2023 AWS Cloud Innovation Award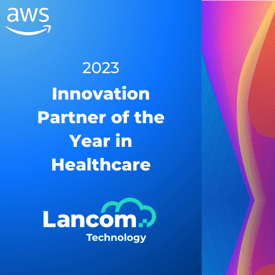 Making the most of AWS
Move to the cloud
This is one of the most important technology changes your business will make. Reduce the risk and move to the cloud with ease by working with a team of seasoned navigators who have delivered hundreds of cutting-edge cloud projects. Our team can help you understand your cloud readiness and put a detailed plan in place to ensure a successful migration to the cloud.
Application migration
We're a one stop shop for app migrations to AWS. We can help you migrate your current infrastructure to AWS by lifting and shifting, we can refactor your apps to make them cloud-native so they're scalable, we can rearchitect or rebuild your apps so they work correctly, or we can even replace your apps with brand new and purpose built solutions. Along the way, we'll provide economic analysis, security and governance evaluations and post migration we can provide a range of services to ensure you get the most from your AWS environment.
Microsoft workloads
Customers have been running Windows workloads on AWS for over a decade. During that time we've demonstrated a deep knowledge and experience in helping customers migrate and enhance their Microsoft workloads on AWS.
Design and build SaaS
We're amongst only a handful of AWS Partners in the Asia Pacific region to have achieved the AWS SaaS Competency. It's in recognition of our deep specialisation and expertise in designing and building Software-as-a-Service (SaaS) solutions on AWS.
Operate and optimise
We can take care of operating and optimising your AWS ecosystem, keeping things buzzing by providing ongoing maintenance and support of your cloud infrastructure and applications.
Learn more about Lancom Technology and AWS
We're a leading AWS Advanced Consulting Partner with over 10 years of proven experience migrating workloads to the cloud. We develop cloud-native applications and design and implement award winning cloud solutions. Get in touch to find out more.