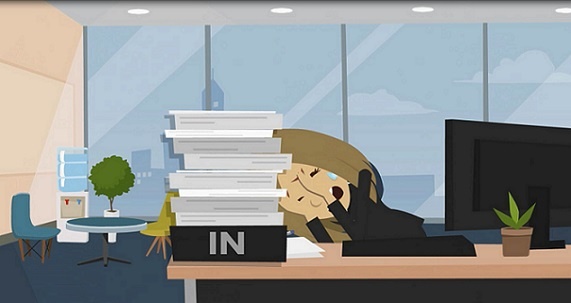 Even as automation continues to change the nature of work today, it is human talent which makes the difference and drives high-growth organisations to reach the next milestone. However, attracting and retaining the right people is costly and time consuming.
How about automating this process?

That's exactly what we asked ourselves at Lancom, years ago. Realising that the process from advertising a vacancy to starting the successful candidate just took too much time (and effort), we went about creating a better way. The result is HireRoom and it makes finding, interviewing and employing the best person far easier, much faster for all concerned, and considerably reduces the cost.
Best of all, HireRoom doesn't remove the human out of the human resources.
It's a recruitment tool that lets you test the skills of your next hire early on in the recruitment process, cutting down on time and quickly narrowing the candidate field down to those capable of doing the job.
How does HireRoom work?

HireRoom is an online service which we've developed, tested, used and proven at Lancom for almost a decade. Designed for ease of use, HireRoom connects you with candidates. Each prospective employee signs in through their web browser and is given various tasks to do. During the session, HireRoom tracks their inputs, actions and activities, providing you with the information to make an informed call on their skills and abilities.
With HireRoom, a new recruitment process is designed in just three easy steps.
1. Create the role you are advertising for in the tool, with specific questions. It generates a hyperlink which you include in your notices on the usual recruitment websites frequented by candidates.
2. Interested candidates use the link to visit your HireRoom. They are prompted with the questions you set up in step 1. As they construct their answers, the system monitors their inputs.
3. Knowing how the candidates responded, you can narrow the field down to the best candidates and call those individuals in for interviews.
Cool features we like (and you will too!)
1. Sudden Death: Include a "Sudden Death"question. If the candidates select it, they are an instant "NO'. For example, "Do you have criminal convictions". Yes? No thanks.
2. Snapshots: HireRoom records 10 second snapshots of the answer box. Replay how the candidate constructs the answer, For example, "Write a method to calculate the area of a circle in your favourite language.". HireBox let's you review how they wrote the cord in 10 second snapshots.
3. Scoring: Each question is set up with a score so you accurately evaluate candidate performance.,
4. Paste capture: CTRL-C, CTRL-V is not a sufficient answer to a programming question. Quickly weed out those candidates who take shortcuts, as HireRoom is watching for this behaviour.
HireRoom is an elegantly simple solution born out of a real world problem faced by Lancom itself. We wanted to be able to see how programmers and engineers do their work, in a practical way, knowing that this would provide the necessary insight to choose the best person for the job. It's not only for programmers, however – regardless of the position, knowing how people work provides the knowledge to make better hiring decisions, driving down the cost of recruitment.
Sound good? Give HireRoom a try!