Have your friends or colleagues suggested a 'must have' budgeting app that you found to be a waste of time? We've collected three of the best apps that you can start using right now that are going to keep your money where it should be, your pocket!
Digit
Want to save money without even knowing that you're doing it? I thought that might be the answer, but how you ask? Digit is a free app that operates from the interest earned from its users accounts. The magic of Digit is that it automatically assesses your income and spending patterns and transfers an amount that it deems that you won't miss. Saving money that you didn't even know you had!
Hopper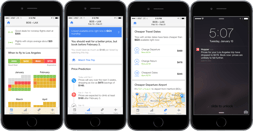 Do you have better things to do than monitor airline websites to see when the cheapest tickets become available? Enter Hopper, the one app that is going to simplify your airline purchases indefinitely. After selecting the flight destination and your dates you are given a price prediction. This ingenious little tool gathers historical pricing information and creates a forecast whether now is the best time to buy tickets or to wait until they may go down. The app also will alert you when prices have changed so you can snap up the deal.
Mint
This app is your best friend when it comes to personal finances. From keeping track of your budgets to providing saving tips, Mint is what you need to keep things under control. In addition to doing all of that, the app analyses your spending patterns and creates a budget for an easy cashflow system. Oh! it also displays the information with graphics for an easy visual representation of your finances (and, it's free!).