Digital marketing is a big deal today. In a world where digital transformation is delivering efficiency and satisfying the rapidly changing needs of customers, businesses need to be online, active, visible and speaking the language of customers. But making the most of the opportunity depends on the use of right tools, connections growth and establishing your profile as an authority on the internet.
If you are looking to increase leads, accelerate sales, or simplifying your processes, it could be time to put some free (or low-cost) and highly effective tools to use to amplify your efforts and bring in those leads.
Check out our three top picks to take your digital marketing to the next level.
1. Brand email signatures with WiseStamp
WiseStamp helps you create stunning email signatures the easy way. Cut through the spam clutter with a professional email signature which makes a strong statement the first time and every time thereafter. If you want your recipients to take your messages seriously, you need to make sure that you — the sender of the message — are worth taking seriously, as well. What better way to do that than to have an awesometastic email signature, right?
You'll be amazed at how easy to use the software is. Here's what pops-up when you click the green "Claim your FREE email signature" button on the homepage.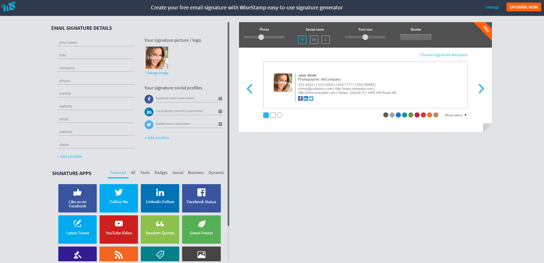 As you edit the fields on the left, you'd be able you can see the changes reflect real-time on your signature preview on the right side of the page.
With a wide range of signature apps and templates to choose from, you're just minutes away from a professional signature to go on every outbound email, drastically improving the impression you make on every prospect.

While it starts free, WiseStamp Pro is priced at $6 per month (billed annually).
2. Get online with WiseIntro
You guessed it: WiseIntro is from the makers of WiseStamp. Where WiseStamp takes care of signatures, WiseIntro deals with your internet site, providing the tools to create a professional webpage in seconds.
Today, a website should be recognised as indispensable. It attests to professionalism, legitimacy and authoritativeness. With WiseIntro, looking good online is made easy.
Here's how it looks once you click the "Create your FREE WebPage Now" button: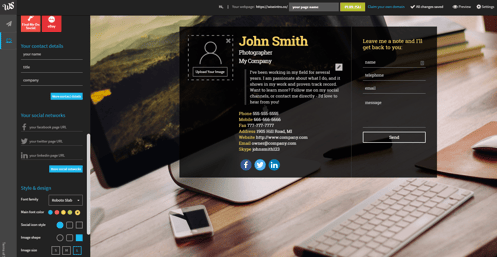 WiseIntro's overall feel is much like that of WiseStamp. The interface is easy to understand, clutter-free, powerful and functional. It delivers several design customisation features which equip you to create a unique page for your business and it offers a contact form for prospects to connect with you.
You can get WiseIntro's Pro version for $7 per month (billed annually).
3. Stay connected with Vertical Response
We love VerticalResponse for its suite of web-based marketing tools reach customers and prospects through email, social media, mobile, and more. Use these tools to create and send professional communications including newsletters, offers, promotions and invitations without needing a designer or any HTML coding. The variety of templates available automatically adapt to PCs, phones or tablets, while social media integration means expanding your reach through Facebook and Twitter.
The free plan is probably good enough for most businesses: it lets you communicate with up to 300 contacts and send up to 4,000 emails per month.