If you want to increase your productivity, you're not alone. We love employing the latest apps to automate repetitive, laborious tasks and free our brains up to tackle the "bigger" problems.
There are countless apps available for iPhone or Android that act like personal assistants by automating time consuming tasks or by allowing you to multitask (when performing routine, habitual stuff like cleaning). With them, your brain is free to engage or absorb more info!
By embracing technology and adding a few apps into your daily life, you can completely overhaul your levels of productivity and give yourself the cutting edge amongst your colleagues. To back this up, a study looking at over 240 enterprises has found that when people use mobile apps specifically designed to get their work done, it increases productivity by 45%.

On that note, we've compiled a list of must-have apps to start you off. These are our favourites and we're sure you'll love them, too!
---
Audible & Podcast Addict: Listen to your favourite books and podcasts on the go.
Audible and Podcast Addict are awesome apps which allow you to listen to your favourite content on the go. Listen to books on audible, listen to your favourite radio talk shows or podcasts series with Podcast Addict.
We love to listen while we clean the house, get in our exercise, or go for a drive. Just be careful on the road!
Need some suggestions to get started on Audible & Podcasts? We have a couple!

A couple of our favourites to get you started are the audible book 'Drive' by Daniel H. Pink and the TED Talks podcasts.
IFTTT: Program your phone and computer to automate routine tasks, like responding to generic emails or turning a Facebook post into a tweet!
This app is awesome! It allows you to automate the repetitive tasks you do on your phone (and so much more). It comes with a variety of pre-built "applets", which automate tasks such as backing up photos, messaging your spouse when you're near a grocery store (phew!), or even having smart lights turn themselves on when you return home.
In addition to these applets, you can create your own for custom tasks by combining multiple tasks and triggers into an "If This, Then That" structure (IFTTT). A personal assistant in your pocket! Here are 10 cool IFTTT uses to get you started.
---
Shoeboxed: Automatically file and report your receipts.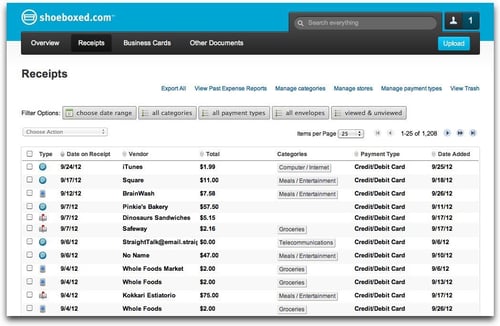 Shoeboxed is your personal accountant for business expenses. This app makes note-taking and receipt filing a breeze with an instant, organised file. (Bonus: you can then forward that file anywhere!)
Shoeboxed is great for those who are always on the go. You just scan your receipts as you go and the app organizes them for you. It also generates an expense report for you - all you need to do is send it (which you can do straight form the app!).
Another nifty feature? Instead of collecting a pile of business cards, you can scan the business card with your phone and all the information is pulled from the image and stored in your personal contacts list.
---
Accompany: A cheat sheet for your company meetings.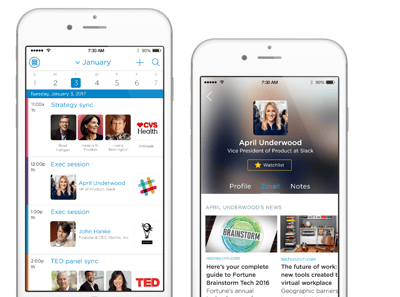 Bring your A-game to meetings with Accompany. This app uses your work email account to turn itself into your mobile chief of staff. It creates detailed profiles of people and companies for your upcoming events and meetings, which you can look up on the fly.
It also stores your last communications with the contact, their social media posts, news stories featuring them along with company profiles, and financial reports – all of which allow you to never go to a meeting unprepared! (Oh, and the app emails you an executive briefing of all of this info the night before for you to review. Neat!)
---
Timepage: The calendar app to end all calendar apps.
Yes, it's a calendar app - but, it's more stylish, feature packed, and intuitive to use. It works alongside existing calendar providers, but gives you some super useful calendar views.
The features that give this calendar the cutting edge include a monthly view "heat map", which allows you to see at a glance which days are free and which are busy, along with filters for particular events, maps, and weather info.
If you're like us and love working smarter and increasing your productivity, give these apps a try. Once you have them in place, watch how they overhaul your life for the better!
What are your favourite productivity apps? Let us know in the comments!