Chief financial officers aren't going to stop concentrating on the books by any means. But they are increasingly looking to leverage the power of data to make better decisions – and to make those decisions more of the time. The future belongs to these individuals, who are taking advantage of the ability to mine, organise, analyse, and act upon data.
That's thanks to the ready availability of the technology which enables data driven decision making. It is also a reflection of the increased interest that CFOs are taking in identifying and deploying technology in their organisations (an effect which isn't limited to the financial office, either, as people across smart businesses look to maximise the operational efficiency through technology).
Already, the C in the title attests to how the modern CFOs is no longer the backroom 'numbers guy', but one who plays an integral role in the boardroom. Backed by improved data (and more importantly, reporting and analysis functions) 2017 will see the continued emergence of the highly-involved, highly informed CFO.
But how ready and how well equipped are CFOs right now to do just that?

The answer is surprising as, while CFOs want to do more, they are constrained by outdated technology systems.
That much is reflected in an American survey by consulting firm Kaufman Hall which polled 380 finance executives saw some 70 per cent say supporting decision-making is their number-one goal for 2017. That represents a move away from the more traditional finance and accounting tasks associated with these roles.
What's more, Kaufman Hall's study showed that CFOs practically across the board are aware of the opportunity which is being presented to them: over 90 per cent said they need to do more with the financial and operations data at hand to help decision-making for top management.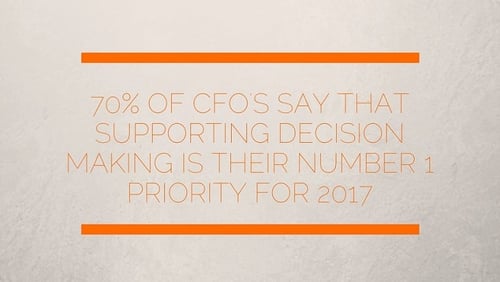 What that means, in a nutshell...
...Is that finance executives are becoming business advisors rather than mere 'bean counters'. Where top priorities were once dealing with issues such as financial consolidation, regulatory compliance and cost containment, Kaufman Hall's study confirms that the modern CFO is looking to access and use data from across the company.
The study even showed which data is of interest to the CFO: management-level (for 75 per cent of respondents) and operational (67 per cent) information. Just under half of respondents said benchmarking data is also a top concern.
But while an overwhelming majority of CFOs see the potential for data-driven decision making, many do not yet have the tools to put the ideas into action. Fewer than one in ten respondents said they were "very satisfied" with performance management reporting at their companies. That reflects the opportunity for better tools which, in turn, can accelerate the performance and value that CFOs can deliver to the business. Furthermore, fewer than 23 per cent of respondents said they are 'very confident' about their company's ability to manoeuvre past unforeseen business obstacles, due in part to outdated financial planning and analysis (FP&A) tools and processes.
The length of budget cycles, inefficient reporting and access to data, and general problems caused by an overreliance on Excel are the primary challenges facing the FP&A function, said Kaufman Hall; it noted that above 50 percent of CFOs take longer than three months to complete a budget. This is a task which, with modern software, can be done in a matter of days or weeks.
Instead, a remarkable 90 per cent of finance departments say they're still using Excel as part of their financial planning and budgeting system – and while we're big fans of Excel and its power, it also has limitations which will slow down finance departments. Purpose build SaaS tools are likely to deliver far more value, far faster: Kaufman Hall pointed out that 'CFOs say having the ability to pull data from multiple sources into a single report would greatly increase productivity, along with better processes to mine data and improved dashboards and visualisations'.