As is routinely the case with the introduction of a new Microsoft operating system, it can be a little difficult to see what the real benefits are, besides the obvious improvements in look and feel. With Windows 10 in-market for some time now, users are quickly appreciating that there is more to it than a better-looking Windows; there are also some useful features which, when mastered, contribute to better productivity.
Here are our top three picks of features that have made Windows 10 indispensable:
1- Virtual Desktops
We've established that 'too many windows' is a reality these days – take better control with virtual desktops. Spread the load of all those open applications and windows across multiple desktops; click on the "Task View" icon on the taskbar, then click "+ New Desktop" in the lower right corner to add as many as you wish. Move applications to new desktops by dragging them across.
2- Easier Screenshotting

Screenshotting in the good old days wasn't good at all. It was clunky. Not so with Windows 10. With the built-in Snipping Tool, you can capture a full screen screenshots, or select the bits you want: options include a free-form rectangle, specific aspect ratios or an entire window. Also available is a time-delay sequence, which can take video-grab images. Find Snipping Tool easily by typing just that into 'Search Windows' on your taskbar.
3- Automatic Battery Saver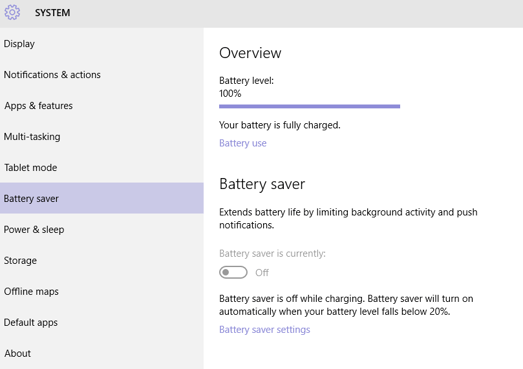 Yes, batteries have come a long way and so have low-power processors. But battery life remains one of the top features we'd all like to get more out of – and Windows 10 is built to help eke out the life of your laptop or other mobile device. Activate battery saver in Windows 10 and choose to limit background activity and push notifications to prolong battery life.
Windows 10 also adds an even easier way to make the most of the dregs of a draining battery: it kicks in Batter Saver automatically at the 20 percent remaining mark!
Like most features in Windows 10, it is customisable to your own power threshold, while you can also choose which applications can run in the background. Go Settings > System > Battery saver.