Is your business customer-centric? We'd be very surprised if it wasn't, because as the old saying goes, every business is a customer business. And as a customer-centric company, going beyond good services is likely to be something you're always interested in; it doesn't take genius to recognise that delivering great experiences accross the customer journey is a sure-fire way to keep them coming back for more.
Check out these three highly accessible technologies which we've found to be so useful that we're pretty sure every business will benefit from them:
1. Temper - Measure how your customers feel about you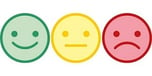 Grab hold of Temper and take guesswork out of gauging customer perceptions. This is simple customer feedback tool surveys customers to measure satisfaction, identify those who are happy and those who are not so pleased. The tool makes it easy to create questions, add some graphics and get the survey to customers, then gather and analyse feedback. It is simple - and it works.
2. Google Analytics - The power to know more

Google has done for Analytics what it has done for search: made it simple, easy and fast. Google Analytics is one of the easiest ways to reach your audience and drive traffic to your site; it is an essential tool for busy small business owners, providing immediate access to general website statistics as well as some of the more esoteric metrics. Drill down into the detailed, comprehensive reports to understand who visits your sites, where they go and how much time they spend – then use that information to refine your web presence.
Among the metrics Google Analytics spits out are:
The browsers and operating systems used by your visitors
What they view and for how long
Where they came from (what made them visit your site)
How quickly people leave (bounce rate)
How people navigate your site
Mobile device visits
Page visit and clickstream metrics.
3. Litmos - Deliver online training for your customers



Businesses which offer services (and even some products) often need to train customers to use the product or service effectively. That comes with an overhead; if the training isn't done, customers can and do get upset and blame the product or service. That's where the Litmos learning management system steps into the gap. It provides a learning platform on which your customers enjoy on-demand access to tutorials, courses and other materials which helps them get up to speed fast – but also at their own pace.
Use Litmos to rapidly and easily share information and training about your company, its products and services, to the people that need it. Litmos can build relationships and connections with customers, while enhancing the value you provide. Content can be uploaded in a variety of formats, including videos, audio files, PowerPoints, reference documents and SCORM files.
Do it once, and the material becomes a reference point for existing customers, and every new one who comes on board.