These days, there's a persistent drive for organisations of every type to be innovative. It's implied every time you hear the term 'digital disruption' or 'digital transformation'. But just what does it mean to be innovative – and is it really necessary for your business?
It's easy to answer the first part of that question.
'Innovative' simply means 'something new' and there are multiple opportunities within most businesses to do just that (new processes, experiences, features, customers, products and services, and business models.)
In turn, most of these opportunities can be partially or fully enabled by readily available technology. More on that in a moment.
The second part is both more interesting and more difficult to answer. Does your company really need to be innovative? It would be presumptuous to speak for you, because you are better positioned to know your own business and the risks, challenges and opportunities faced.
However, there are few things worth considering, regardless of the vertical market in which you compete, courtesy of research from Vanson Bourne and Rimini Street (check out the CIO NZ article here). The findings show that out of 900 IT decision-makers:
98 per cent believe that their organisation needs to increase IT innovation spending.

71 per cent are worried about how their organisation will find budget for IT innovation

83 per cent acknowledged a link between spending on IT innovation and the firm's competitive position

77 per cent indicated that the biggest blocker to achieving innovation in their organisation is the over-spending on 'keeping the lights on'

74 per cent stated that current contracts with service providers do not accommodate innovation

63 per cent feel that they are locked in to current relationships with service providers thus lacking the ability to

explore other options to innovate through partnership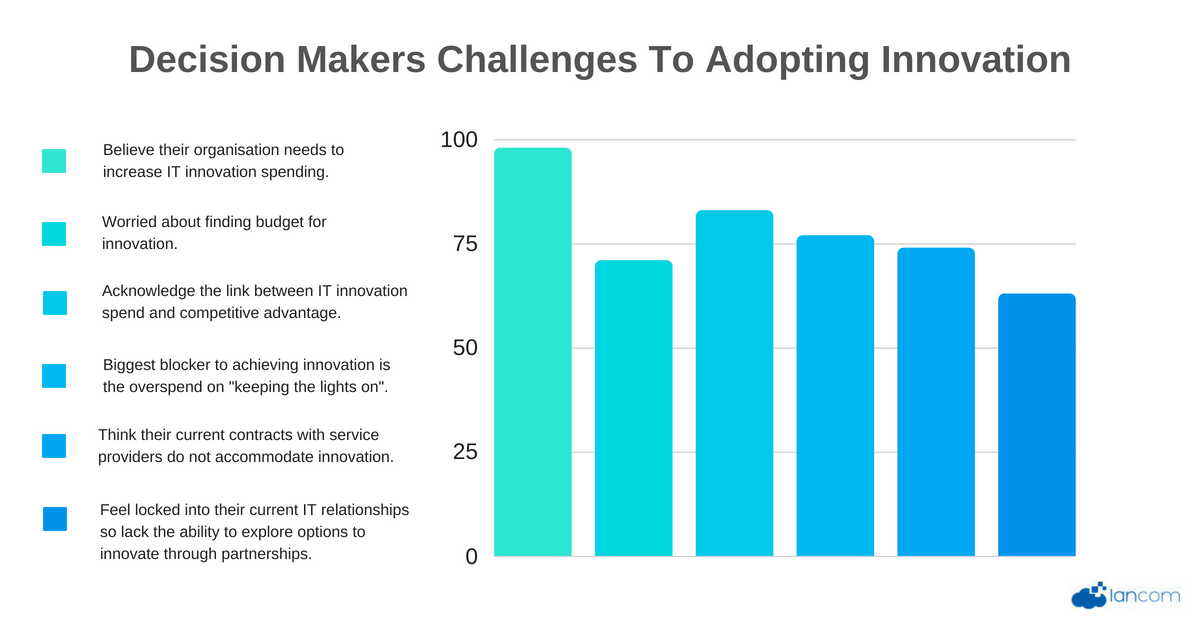 And while none of this means you have to be thinking about innovation, it certainly shows that this is a concern for a lot of businesses.
But should you turn attention and investment to innovation, it can put your company ahead. Not Beliveonly ahead of competitors today, but also ahead of the game into the future. After all, the world is nothing if not beset by (increasingly accelerated) change and as we've all seen, even 'unassailable' businesses like Nokia, Kodak or Research in Motion can find the rug pulled out from them from out of the blue.
For further direction on what to think about when it comes to innovation, there are really no more than 6 areas in which to focus: yes, those were introduced in the second paragraph above. Let's take a closer look:
1. New Processes.
This is probably one of the bigger opportunities presented by technological advancement. By using tech (like Office 365, Dynamics, or AWS services) you can improve processes to the extent that you'll get better efficiencies and margins by providing exactly the same goods and services.
2. New experiences.
The same products and services but provided differently. Technology can support this through improved engagement and accelerated delivery which puts a smile on the dial of most customers.
3. New features.
Enhance existing products and services to drive up value for customers.
4. Find new customers.
That's something most businesses already invest in – but how can technology expand your reach? New ways of advertising and engaging, through social media for example, can make the difference.
5. New offerings.
Developing new products is probably one of the more challenging aspects of innovation, depending of course on the type of business you're in. For some, this will be rote; for others, difficult or impossible. But can technology like 3D printers accelerate the process or inspire new ideas?
6. New business models.
The rise of the internet, the availability of Trade Me, eBay and Amazon and other platforms, subscription and -as a service, means new business models are possible without enormous effort. What other ways can you grow your reach by selling in new ways?
Growth and innovation don't come through luck or waiting around to see what might happen. Instead, when you take a conscious approach to driving innovation and seeking out ways to do things better and more effectively, or indeed differently, the results are far more likely to flow.
With the pace of change in technology, it's a great idea to engage with your IT partner for their insights on what's happening and which emerging (or even maturing/mature) technologies can be applied to your business.
That's our specialty, so feel free to contact us to have a chat. We promise value from the first engagement, and don't charge for it!