Sometimes, the tried and true gets tired, outdated, and inefficient.
Recently, we have come to this conclusion with our account management monthly client reporting model, and decided to leverage the power of dashboards to shave countless hours off our reporting model, provide increased transparency, and allow us to give more value to our clients during our monthly meetings.... And least we forget, reduce our environmental footprint!
Curious to get an inside glimpse as to how we're moving to a paperless reporting system? Here's the inside scoop!
Our motivation to change
To evolve our processes is something we always strive for, here at Lancom. We never want to remain stagnant, because in the age of technology you quickly fall behind!
Despite being a largely paperless office, one area we had yet to update was client reporting. So, in the last few months we've be working towards revamping to a paper-based reporting model!
Here's how our reporting process worked (I'm sure you might be able to relate to it!)
Our solution advisers (for this example, Dilanka) would work with our account manager assistant, Karla, to curate the performance reports. It would start off with Karla checking weekly (if not daily) Dilanka's calendar for upcoming meetings. Karla would then make a judgement call as to when to start preparing the report, and collate the information into a routine report template.
Typically, it would take us 15 minutes to create a report for each client (because we had already automated a bunch of steps prior to getting to report generation). From here, Dilanka would then go over the report, and if any changes had to be made, Karla would need to revise the document. All up, the report creation process would take approximately 30 minutes.
However, sometimes meetings have to be rescheduled. When this happens, information can become out of date, and the creation process starts all over again!
There was a lot of collaboration involved in this process, however the information was standard, so the collaboration was over the creation of the report, as opposed to the content itself, so it didn't add any 'value'.
Our driving factors for change were:
Helping our environment out (one report at a time!)
Reducing time spent preparing routine reports
Allow us to provide our clients with better insights – and accessible at any time
Increased transparency of our performance
Free up our time in our monthly catch-ups to have better valued-add conversations
Our approach
We decided to leverage the power of Power BI (pun intended!), and build customised dashboards for each our clients.
These dashboards allow us to provide real-time, in-depth insights to our clients on our performance, and give them the control to deep dive into any metric.
Because the information on these dashboards are up to the minute, our clients are able to review the metrics before our monthly meetings which allows our conversations to be strategically geared, as opposed to a review of a document.
Like we've mentioned, the goal of our dashboards is give our clients an overview of our performance, to do this, the metrics we include show:
A breakdown of the types of IT support tickets logged (are there any reoccurring issues?)
Statistics around the priority of the tickets logged (was critical IT failing often?)
Statistics of our overall performance (are we meeting our response SLA's?)
A summary of tickets logged for the reporting period (user, issue, priority, ticket status)
The status of any warranties or renewals for their technology
A summary of any projects in progress
Upcoming recommended projects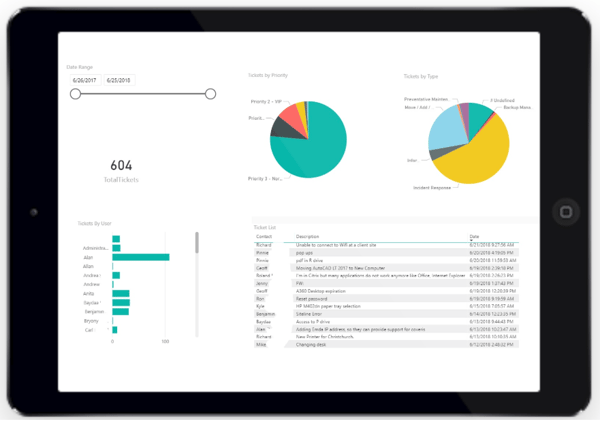 The outcome
We are currently in the process of rolling out the new dashboards, but so far the reaction has been fantastic!
By moving our reporting system to paperless, not only are we able to reduce our impact on the environment, we are able to leverage our time with our clients, and move our regular monthly meetings from a review format to discussing strategy and improving the service we provide.
The future
In addition to be able to provide real time data and transparency, we are looking forward to the next step - being able to provide forecasting, where clients can know in advance any technology updates required, and predict future billing.
How you can apply it to your business
Power BI is a powerful tool any business can leverage – you don't have to be an IT expert to put together a dashboard!
Create insights from your data by formatting and displaying the information you have in real time, and in actionable metrics.
⇒ Watch how easy it is to create your own dashboard, here.
Through leveraging readily available technology, we have been able to create a reporting model that allows us to help the environment, empower our customers, and bring more value to them.
If you would like to chat to one of our experts about leveraging dashboards to transform your data into business insights, you can book in for a complementary consultation here.