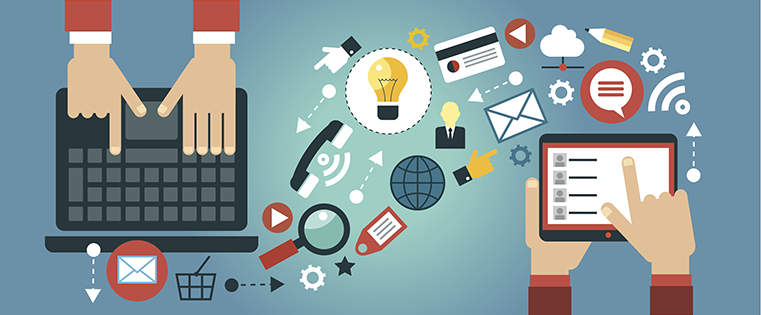 Noticed the pace and efficiency of the digital economy? Impossible not to – but are your marketing efforts keeping up? For most companies, the answer is as simple as it is short. No.
That's because for many organisations, marketing continues to function as it always has, despite the obvious impact of digital business taking place all around. That necessitates doing things a little differently. If you're wondering where to start, check out these five web tools which will help catapult your marketing into the digital era. Here's more good news – they don't need investments in time or money.
Fiverr – The online market places for services starting at $5

This is so good it should come with a warning sticker: You will get addicted. However, used right, you will get amazing results from Fiverr. It's an online site where you can get people to do tasks and services of all kinds for, well, a fiver (and upwards).
At Lancom, we use Fiverr for video work, logo animation and many more things. It has become our go-to-tool if we need something creative done, but don't have the time to handle it ourselves. Check it out by visiting the site – and there's a Fiverr app for your phone, too, so you can get stuff done while on the move.
Website Grader – Just how effective is your website?
Use this well-known free tool for advice on optimising your site for search engines. All you need to do is enter your website URL and let the tool do its magic!
Within minutes, Website Grader performs a detailed analysis and provide an overall score for how effective your site is at catching all-important search traffic and inbound links.
While you are here, why not submit the URLs of your competitors too? Their performance measured against yours may be surprising.
Hotjar – the all in-one behavioural research platform
Staying with websites, use Hotjar to answer all-important questions such as: "Where do my visitors click?", "Do they pay attention to my copy?" "Are there any problems with order forms"?
Hotjar is an all-in-one behavioural research platform that combines heat maps, website session recordings, and deeper data insights to provide an overall view of how your online initiatives are being taken. Use the results from Hotjar to shape the layout, structure and content of your website to best meet the needs of your visitors. It's free to try, too.
Canva – The virtual image creation tool
Using images to tell your brand's story is the 'next big thing' of social media. "Visual marketing" works so well because, online or offline, a picture tells a thousand words.
Canva helps you do just that. This free and easy to use tool makes the creation infographics, blog and social media images a breeze. Search a library of images, layouts and backgrounds, or upload your own photos to initiate new designs. The interface is a simple drag and drop which takes no time to master. Canva comes with a ton of templates, graphics and fonts, so you never run out of options to turn great ideas into clever images.
Lucidchart – The easy flow chart maker
Images don't get cleverer than flow charts, but just how exactly to put them together? That's where you need LucidChart, a tool which lets you quickly put together professional diagrams for all manner of applications. It's so good that it's not just useful for the marketing department, but is also heavily used by engineers (and we all know they enjoy a good chart more than anyone else). Sign up and give it a go for free; you'll soon have easy to read charts which help get the point across better than ever.
Check out these digital marketing tools to give your efforts a big boost. Like most cloud software solutions, they are easily accessed, you can try before you buy and they deliver great value. Talk to us about how we can deliver business applications which boost your company performance not just in the marketing department, but across the board.