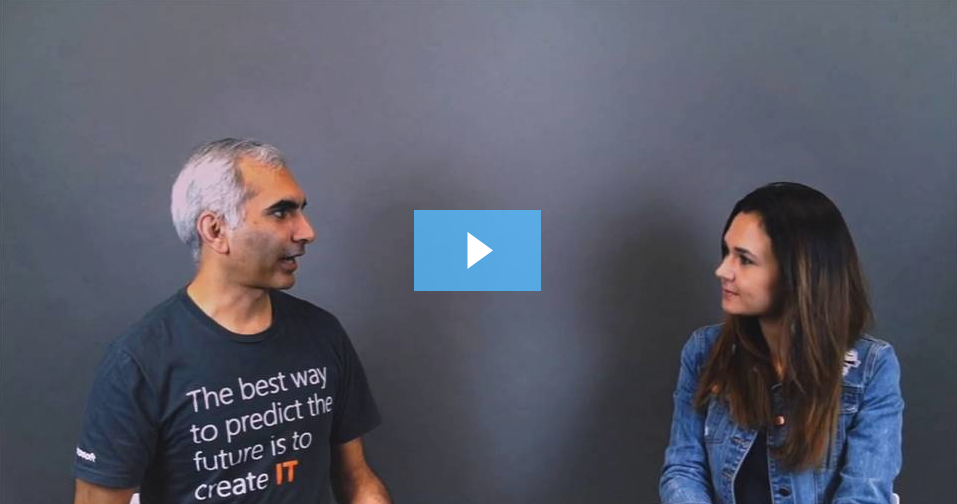 In this week's episode we sit down with a special guest, Royden Burt, DickerData's National Microsoft Azure Specialist. So naturally, our topic of choice is Microsoft Azure!
In this episode we pick Royden's brain on the basic's of Azure, as well as outlining the business advantages and opportunities to be had.
Transcript:
Priscila
Hi guys, welcome back to Lancom TV. I'm sitting here today with a special guest, Royden. Hi Royden. How are you?
Royden
I'm great, thank you, Priscila. How are you?
Priscila
I am great. Royden works for Dicker Data in New Zealand, which is one of the largest Microsoft distributors. And he is the Microsoft Azure specialist in the country. So today I'm sitting here with him to ask him that Azure questions that you're asking yourself. So Royden, without too much, I will just crack into it.

For those people that are just sort of getting started in understanding what Microsoft Azure really is, how would you put it back to them? So what is Microsoft Azure? In simple terms essentially.
Royden
In simple terms? Easy. So Microsoft Azure is a group of data centers based all over the world and they have some specialist data centers as well as more public generic data centers as well. So what I mean by that is, there are government specific ones. There's also ones based in Europe, which around the regulations and rules that are in Europe, specifically. And then there's more generic public ones, which are the ones that we tend to consume here in New Zealand. So the ones we...
Royden
Absolutely, yeah. Small businesses, large corporates, everyone in between tend to consume out of the public cloud. For us in New Zealand, the closest ones are in Australia, which is in Sydney and Melbourne. Or also known as Australia East and Australia South-east.
Priscila
So essentially a collation of data centers allowing us, consumers or businesses to consume cloud services, or infrastructure services, via a pay-as-you-go type of model.
Royden
That's exactly it. So Microsoft, when they initially came out with the Azure platform, it started off as an infrastructure service play. So for those of you that don't understand what infrastructure as a service is, that's more your nuts and bolts of running IT. So how do you run a server? As we've developed further, we've looked at like platform as a service, and software as a service. Now, the software as a service example is what a lot of you will be familiar with, which is Office 365. That's actually powered out of the same data centers as Azure. It is a bit secret, but it is powered out of the same place.
Priscila
I heard about a new term last week as well, which is function as a service. So we're not going to get into the details because that's a development word. But I guess the summary is that every day there's more services coming against the platform, right?
Priscila
And we've got the whole security suite of products where you get to your two factor authentication of this word, and so on and so forth. So lots and lots of new things coming up every day, which is fantastic. But for the people watching us today, Royden, and that's mainly your managers and the business decision makers. What sort of solutions can Microsoft Azure provide to New Zealand businesses? I guess, if we try and translate that back into our reality of our everyday business life, how could we leverage Microsoft Azure to get solutions out of it?
Royden
Microsoft Azure is inherently very difficult to articulate and straight away with a value proposition. So the thing is, Microsoft Azure can be literally anything you want it to be. You can turn it into a platform that you want to run for customers. So that's more of an ISP type environment, which is similar to what Lancom does. Or it could be more of a hosting your servers elsewhere, so that they're not locally here in New Zealand. And everyone is at a different point in that journey. So we have customers who are starting off in that journey with just backing up to Azure, for instance.
Priscila
True. You might have a server in your house or in your office, I should say. And then you just want to send your backup somewhere else for disaster recovery purposes.
Priscila
Can be as little as that, isn't it?
Royden
Yeah, through to people who are using it as a disaster recovery. So a live environment from both sides, to people who are absolutely 100% running out of Azure. Now, the big player with the Azure piece is that all of these products, and offerings, and functions as a service, and Office 365, all exist in the same environment. So from a ease of management point of view, it's one identity, it's one user, everyone exists in one place, and we can kind of manage it that way. So it becomes a really, really easy way to actually consume those services.
Priscila
Right. So in terms of consuming those services, and paying as you go, which we touched on early on, how do people pay for Azure? Be it you're using it for your backups, or your entire infrastructure is there somehow. Is it on a per month basis, per hour basis, per minute? How does the model work?
Royden
Oddly enough, it's all of the above. There's a different way of consuming every different product and every different platform. Some of them are based on per hour that the virtual machine is switched on, which is actually done per minute, rather. So every minute that you have that consuming space inside the data center, it is being built up. And that then can accumulate and be paid off either over a month, or if you have a longer contract, that can be over a year, or quarter, it can be quite flexible. Some people choose to pay for the virtual machines up front for one year, or three years. And then they pay for some pieces on the side, such as the storage. And the networking comes along monthly as you go.
Priscila
And I believe there is some incentives to do that, by reserving your instances.
Royden
That's exactly it, reserved instances. If you commit to locking into a single virtual machine for three years, then you get a bigger discount than if you did it for one year, which is a bigger discount than if you just used it month by month, or for hour by hour.
Priscila
Fantastic, fantastic. So I suppose that's where a provider can come in, and help you not only shape what services you could be leveraging out of the platform, but also how you should be paying for those. And potentially looking for cost saving opportunities as well, whereby if you're not using that particular service in the middle of the night, it could be automatically shut down and restart in the morning type of thing, to be able to really leverage that per minute, per hour type of the model, isn't it?
Royden
That's absolutely right. So we do see often customers themselves, they have chosen to embrace Microsoft Azure. But with the help of a partner such as Lancom, it does allow you to actually look at the bigger picture. Decide what pieces can be tuned into say a platform as a service offering, versus running what you are traditionally used to in your own environment just running the inside of Azure, which can result in either massive cost savings. Or it could be the same cost, but you actually get a capacity that is far greater than what you had on premise.
Priscila
Yeah, absolutely. So I'm assuming that given all what we discussed, it's being taken on quite heavily by New Zealand businesses and the whole Australian region, I'm sure. It does make sense financially, it sounds like it's a really good fit for the smaller businesses to the largest. So I guess a call to action is to give it a try and see how that could benefit businesses, isn't it? Because just like you mentioned, it can be a very small start or can be a very long extensive sort of implementation.
I have one last question for you Royden. It wasn't on the script guys, so I'm just catching him by surprise. But do you actually know how the name Azure came to be? Is there anything in the background of why Azure? Or anything that Microsoft explains as to how they came up with the name?
Royden
I genuinely have absolutely no idea.
Priscila
No idea, okay, me neither. I'm sure someone decided that in the headquarters of Microsoft, but we can't explain. All right, thank you so much for your time, I really appreciate it. And we'll see you guys again next time. Bye for now.